As CSI's president and CEO, I consider CSI's membership and participation in AFT an important endeavor for our executives, for many reasons. It allows us to connect with key leaders in financial technology, exchange ideas and develop thought leadership, and contribute to the success of the fintech ecosystem, which includes our customers. The relationships we cultivate through AFT mutually benefit CSI and the industry we serve. CSI was there at the beginning of AFT, and we will be here to support the organization well into the future.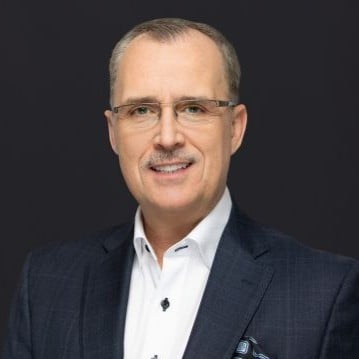 David Culbertson
President & CEO, CSI
AFT Membership
Are you interested in gaining new perspectives? Are your approaches and techniques effective for today's demanding but growing financial services marketplace?
Get what you need to succeed through membership in the Association for Financial Technology (AFT).
Online Application
Rates
AFT offers a corporate membership for $1,250 that runs from January 1 - December 31.
For organizations that join after June 1 and before October 1 and are new to AFT, we will provide a one time prorated membership rate of $625 that expires at the end of the year.

For organizations that join after October 1 and are new to AFT, we will provide a one time extension of the membership through the end of the following year.
Challenge and Opportunity
Financial institutions, technology and service providers, consulting firms... Everyone has witnessed the rapid changes in technology and regulation sweeping the financial services industry. Combined with diverse market dynamics, it's only natural that financial institutions increasingly rely on technology providers like you for guidance and innovation.
AFT provides you with the resources and tools to connect with an expanding network of your peers, to help you stay focused and strong in today's challenging business climate. As an AFT member, you can exchange insights and ideas with other technology thought leaders in an environment of confidence and trust, embracing the knowledge you gain. By building a diverse, critical mass of industry leaders and members, AFT creates vibrant dialogue and compelling content that you can use to innovate, strengthen and grow your organization.
Through your AFT membership, you can discover tangible ways to improve sales, operations and business development, while building business relationships that benefit you and the industry as a whole.
For Its Members, AFT Commits To
Always provide timely, relevant industry content to you and the marketplace

Continue to recruit and retain the strongest thought leaders in the industry

Gain knowledge through the active participation of diverse critical mass of members
This ensures that AFT membership delivers significant opportunities for business improvement and helps foster and reinforce healthy industry relationships.
The Association for Financial Technology has supported the financial technology industry for more than 35 years. The organization's focus is on helping technology companies to succeed in the demanding, rapidly changing financial services market.
AFT Membership Benefits
Annual membership offers the following benefits to you and your company:
Opportunities for business development and revenue growth

Forum for sharing industry trends and insights

Venue for gaining sales, service and operations efficiencies

Opportunity to gain insight into best practices in the industry

Bi-annual meetings that focus on maximizing communication, relationship development and learning
AFT Membership Profile
AFT members are technology business leaders who serve the financial services industry, including:
C-level executives and senior management

Sales, service, and operations senior managers

Consulting service providers

Core and payment service providers

Ancillary software and service organizations
AFT Partnerships
AFT has forged several partnerships with highly respected organizations within the industry. These partnerships provide: 1) networking opportunities 2) discounts for AFT member companies or 3) our association with access to information, people and resources to help us stay current on issues impacting the U.S. financial industry. Partner organizations cross-promote our association within their networks, thereby providing us with access to companies that could benefit from participating in AFT.
Here are the current organizations we partner with along with a description and some benefits of each.
CBANC
CBANC is the largest online community of verified FI professionals which is comprised of 85% of the banks and 30% of credit unions in the United States. Banks and credit unions rely on the CBANC community for helpful resources such as policy documents and webinars, peer recommendations and information on products and services.
AFT members can join CBANC's network of over 7,300 financial institutions at no cost and have your company profiled in the vendor directory. Member companies can also take advantage of a 10% discount on CBANC marketing solutions to reach verified FI professionals,
Please contact Haley Jackson at (214) 326-1646 or hjackson@cbancnetwork.com
FinXTech/Bank Director
In response to the rapid technological changes within the banking industry and feedback from industry leaders, Bank Director created FinXTech – a resource that allows banks in the U.S. to discover potential technology partners and solutions. FinXTech brings together top decision-makers from both traditional financial companies and fintechs through our annual conferences, editorial content and online resources.
Through partnership with FinXTech, AFT members can subscribe to receive Bank Director magazine at no charge. In addition, members may receive 15% off of FinXTech partnership packages that may include thought leadership and advertising opportunities.

Please contact Laura Ramsey at (615) 777-8466 or lramsey@bankdirector.com.
EFTA
EFTA is a cross-industry payments association focused on fostering productive government relations (more education than lobbying), educating members on developments in government that could impact their businesses, industry education (such as what is new in fintech) and high-level/high value networking among board companies. This partnership is especially valuable to AFT because it gives insight to government happenings that impact members and/or company businesses. EFTA regularly contributes to AFT programming.
To learn more about EFTA, please contact Kurt Helwig at kurthelwig@efta.org
CUNA Strategic Services
Credit Union National Association (CUNA) is the only national association that advocates on behalf of all of America's credit unions, which are owned by 110 million consumer members. CUNA, along with its network of affiliated state credit union leagues, delivers unwavering advocacy, continuous professional growth and operational confidence to protect the best interests of all credit unions.
To learn more about CUNA Strategic Services, visit www.cunastrategicservices.com.
ICBA
The Independent Community Bankers of America® (ICBA), the nation's voice for more than 5,700 community banks of all sizes and charter types, is dedicated exclusively to representing the interests of the community banking industry and its membership through effective advocacy, best-in-class education and high-quality products and services.
For more information about ICBA's Corporate Membership program, visit www.icba.org/corporate-members.
Solutions By Text
Solutions by Text is a division of Marketing Response Solutions, a full-service consulting firm which has been serving the business community since 1995. In 2008, Solutions by Text was created to streamline client communication and leverage the power of SMS to create advanced business solutions in the mobile space.